For King and Country to Play RiseFest
Wednesday, December 13, 2017
RiseFest is pleased to announce the next artist on the 2018 bill, Grammy-winning Australian duo, For King and Country.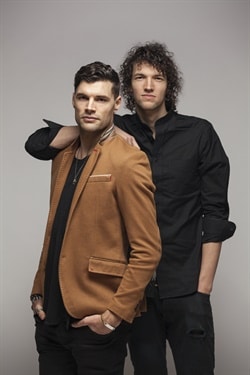 "Each announcement that we get to make for RiseFest is exciting, and this one is no different!  It's an artist my wife has asked me to get for years now, and it just never worked out." Says President and Founder of RISE Ministries, Rob Roozeboom. "However, this year is different and we couldn't be more excited to add For King & Country to the festival line-up!  If you've never experienced them before, you're in for an awesome night.  They're fun, energetic and have a heart for Jesus that radiates from stage.  We can't wait to have them join us at RiseFest 2018!"
Soaring melodies, driving rhythms, theatrical instrumentation and personal themes are the heartbeat of for KING & COUNTRY. The Australian duo, comprised of brothers Joel and Luke Smallbone, raised expectations with the release of 2012's Crave, winning Billboard's New Artists to Watch for 2012. Their sophomore effort RUN WILD. LIVE FREE. LOVE STRONG. debuted at #1 on the iTunes Chart and garnered two Grammy Award wins for the band. They received yet another Grammy nomination in 2017 for their song "Priceless," the title track from their #1 indie film of the same name. The band has sold over 600,000 records and had 150,000,000 streams of their music. They have performed on numerous network television shows including The View, Jimmy Kimmel Live!, The Today Show, The Tonight Show, FOX and Friends and have songs featured on the Emmys, The Super Bowl, Sunday Night Football, U.S. Open, 7UP and more.
The Stocking Stuffer Special is still available until Christmas Eve. Get two RiseFest hooded sweatshirts when you buy 8 full event tickets for only $30 each. These tickets are good for both Friday and Saturday of RiseFest. The Prime Package returns and includes RiseFest ticket, festival t-shirt, autograph fast pass, and special hospitality tent. Camping registration is also available. Tickets can be purchased here.