Crowder Returns to RiseFest
Tuesday, February 6, 2018
RISE Ministries, the organization behind the Christian music festival RiseFest, is pleased to announce the next artist added to the festival 2018 lineup. Crowd-favorite and highly requested Crowder will return to once again play on the RiseFest stage.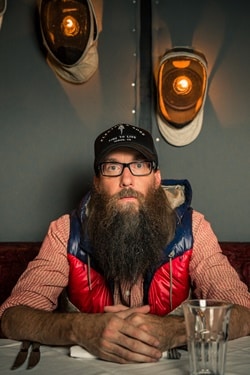 "It's our third year to host Crowder and we couldn't be more excited! He's become a crowd favorite and we love having him back. His lyrics will pierce your heart and his band will make you want to dance, even if you can't!" said President and Founder of RISE Ministries, Rob Roozeboom. "If you've never had the pleasure of seeing him live I invite you to join us at the festival. You won't be disappointed!"
After over a decade of making music with the David Crowder Band, David Crowder embarked on a new musical journey as a solo artist. He released his first album Neon Steeple in 2014, under the name Crowder.
He now lives in Atlanta, Georgia, not far from the birthplace of Martin Luther King, Jr., and in 2016 released his sophomore album American Prodigal.
"Turns out the word "prodigal" is an adjective meaning "lavish" ... as an American, currently living in Atlanta, GA, USA, I know what it means to be lavished upon." David continues his thoughts with this question, "To find our place on this planet, here in such a land of blessing, what shall we do with what has been placed upon us?"
The songs on his new album, including "My Victory" and "Forgiven" take us on a journey that helps us ponder, and perhaps, answer that question for ourselves as we consider what has been done on our behalf by the works of Jesus Christ.
Crowder joins a RiseFest lineup that already includes We Are Messengers, Jordan Feliz, Jeremy Camp, and For King and Country.