Rend Collective, Jaci Velasquez and more added to RiseFest lineup
Tuesday, March 27, 2018
RiseFest is happy to announce the next artists added to the festival 2018 lineup. Jaci Velasquez, Sioux Falls native Cade Thompson, and up and coming Riley Clemmons are all making their festival debuts. National CFA Battle of the Bands winner, Alive City and Ireland's own Rend Collective will play RiseFest for the second time.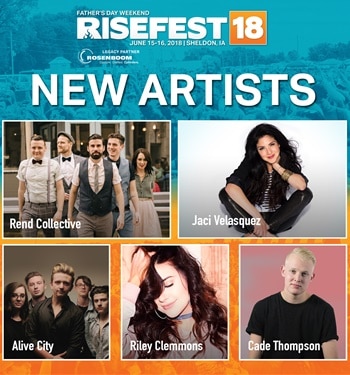 "It's exciting to be announcing bands once again as the lineup for RiseFest continues to grow!" said President and Founder of RISE Ministries, Rob Roozeboom. "We're happy to have Cade Thompson with us this year!  He's a young man from Sioux Falls, SD who's has such a great heart.  Alive City is coming back as the National Battle of the Bands winner, newcomer Riley Clemmons, Jaci Velasquez and Rend Collective are all being added to the lineup!  We know it's still 3 months away, but we can't wait for all the artists to take the stage and watch what God is going to do!"
These artists join a RiseFest lineup that already includes We Are Messengers, Jordan Feliz, Crowder, Jeremy Camp, and For King and Country.
 About the artists: 
Rend Collective have never lacked imagination. From the bewildering array of children's toys and whimsical, handmade oddities they call instruments, to the hare-brained and wonderfully impractical scheme of recording a live album on the beach around a campfire, to the safety-defying audacity of shooting a music video on a fully-operational fishing boat in the turbulent Irish Sea, this fascinating worship community have always pursued the colorful and unexpected.
Jaci Velasquez is a multi-platinum-selling, Grammy nominated artist who has pursued an entertainer's dream, recording albums in English and Spanish and performing on stages around the world. From her debut at age 16, she has leaned full-throttle into her God-given gifts, racking up 16 No. 1 hits, penning three books, acting in seven films, gracing 50 magazine covers and launching a non-profit clothing line. 
Riley Clemmons is an 18-year-old, Nashville-based singer, songwriter signed to Capitol Christian Music Group. Her debut single "Broken Prayers" skyrocketed at radio upon its release in early 2018. The music video earned over a million views on YouTube in less than two months with Clemmons' streams also surpassing a million. Kindness is interwoven throughout Clemmons' music and message.
Alive City returns to RiseFest after winning the CFA National Battle of the Bands. They previously won RiseFest's first festival battle in 2015 and is coming back with new members and new music. 
Cade Thompson is a seventeen-year-old contemporary Christian music artist with a sound that appeals to believers and mainstream pop audiences alike. Based out of Sioux Falls, South Dakota, Cade's effortless style promotes his personal musical influences, which draws heavily from the church.
The RiseFest Early Bird Special is running until April 30. Get tickets for only $27.50 each when you buy 10 or more, $30 individually. These tickets are good for both Friday and Saturday of RiseFest. Camping spaces are also available and the camping area now features showers on site. Tickets can be purchased here.