Skillet Coming to RiseFest!
Tuesday, November 13, 2018
RiseFest is pleased to announce the first artist on the 2019 festival lineup, GRAMMY-nominated rock band, Skillet. This will be Skillet's first appearance at RiseFest. The group will headline the Friday night of RiseFest 2019, June 21.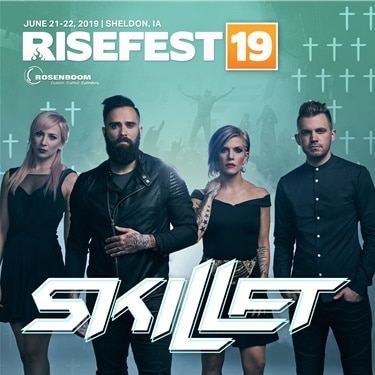 "It's that time of year again – RiseFest artist announcements! For the first time – Skillet will be joining the RiseFest lineup, and we couldn't be more excited!" said President and Founder of RISE Ministries, Rob Roozeboom. "Also, now is the perfect time to get tickets as we have launched the RiseFest PriceSlide through the month of November. It's new, it's exciting and it's the only way to get your tickets as low as possible."
Skillet lets their music speak the loudest. That's how the quartet has cemented its place as one of the 21st century's most successful rock bands. Selling over 11 million units worldwide, the Wisconsin quartet— John Cooper [lead vocals/bass], Korey Cooper [guitar/keys], Jen Ledger [drums/vocals], and Seth Morrison [lead guitars]—have received two GRAMMY® Award nominations and won a Billboard Music Award for the platinum-certified Awake. Their double-platinum single "Monster" was "the eighth most-streamed rock song of 2015" on Spotify and would earn the distinction of becoming "the best-selling digital single in the history of Christian Music." 2013's Rise bowed at #4 on the Billboard Top 200 upon release and received resounding and eclectic acclaim from the likes of USA Today, New York Times, Revolver, Loudwire, and more.
Tickets for RiseFest 2019 are on sale now with a new and exciting twist. During the month of November the RiseFest PriceSlide invites you to do your part in lowering ticket prices by as much as 46%, potentially all the way to $21. The more people who reserve their tickets by November 30, the lower the price will go. Kids 10 and under are free. Tickets can be purchased here.