Zach Williams Coming to RiseFest!
Monday, November 19, 2018
RiseFest is excited to announce the second artist on the 2019 festival lineup, GRAMMY award-winning artist, Zach Williams. This will be Williams' first appearance at RiseFest scheduled for June 21-22, 2019.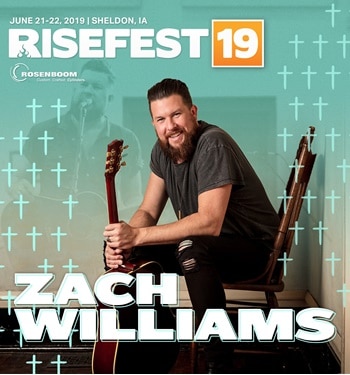 "Every now and then you meet an artist and you think 'they're going somewhere.' Zach Williams is one of those artists." said President and Founder of RISE Ministries, Rob Roozeboom. "Since the first time our team heard him I've wanted him at RiseFest! After years of trying, this year is the year. We couldn't be more excited to have Zach join us."
Husband, father, singer, songwriter, worship leader, campus director at his home church in Arkansas, and now, most recently added to Zach Williams' list of titles is recording artist.  Zach Williams' music comes from a place of humility and honesty as his songs are a direct reflection of God's redemption in his life. As his debut single, Zach William's "Chain Breaker" made the industry sit up and listen, garnering a No.1 spot on the Christian Airplay Radio chart, iTunes Christian Songs chart and SoundScan Christian/Gospel Digital Tracks chart, among others.  Along with his major chart accomplishments, Zach won a GRAMMY® Award for Best Contemporary Christian Music Performance/Song. 
Tickets for RiseFest 2019 are on sale now with a new and exciting twist. During the month of November the RiseFest PriceSlide invites you to do your part in lowering ticket prices by as much as 46%, potentially all the way to $21. The more people who reserve their tickets by November 30, the lower the price will go. Kids 10 and under will remain free. Tickets can be purchased at www.riseministries.com. This special is for general admission tickets only. Kid, Prime Tickets, and camping will be available to purchase at the beginning of December. 
RiseFest features well known and up and coming Christian artists. In addition to musical acts, attendees visit seminars and listen to speakers. Children can play games and make crafts in the Kids Zone. Junior and Senior high school aged students can participate in their respective, specially catered youth areas. Those traveling out of town can buy camping spaces for trailers or tents to stay the weekend. RISE Ministries, along with its sponsors, partners, and volunteers seek to make the atmosphere of the event fun and meaningful for all ages.