Newsboys Return to RiseFest
Tuesday, December 11, 2018
RiseFest is excited to announce the next artist on the 2019 festival lineup, longtime Christian music favorite, Newsboys.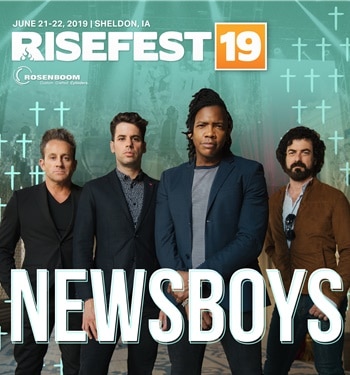 "For the 3rd time we're welcoming back Newsboys to RiseFest!  We're excited to have them closing out Saturday night." said President and Founder of RISE Ministries, Rob Roozeboom. "With hits like "We Believe," "God's Not Dead," "That's How You Change the World," and so many more, closing the festival should be awesome!"
If you were to draw up a blueprint for a successful music career, the final plans couldn't help but resemble Newsboys' trajectory. They've defined Christian music for more than two decades, only to blow up expectations as they've recreated themselves again and again. Impossible to pin down, these musical shapeshifters move fluidly between rock and pop, worship and dance, to the delight of their legion of fans. Their live shows exhibit a kind of energy that, if it could be bottled, would power entire cities. 
Along the way, they've sold more than 10 million units and amassed eight Gold® certifications, 33 #1 radio hits, four GRAMMY® nominations, two American Music Award nominations and taken home multiple Dove Awards. In addition, their chart-topping, Platinum®-certified single, "God's Not Dead," inspired Pure Flix's 2014 hit film of the same name. 
Tickets for RiseFest 2019 are on sale now. During the month of December the RiseFest stocking stuffer special is back. Buy 8 tickets for $35 each and get two RiseFest sweatshirts. Kids 10 and under are free. Tickets can be purchased here. Kid, Prime Tickets, and camping are also now available.