Jeremy Camp to Make 4th RiseFest Appearance
Thursday, December 13, 2018
RiseFest is excited to announce the next artist on the 2019 festival lineup, Jeremy Camp. 2019 will mark Camp's 4th visit to the festival.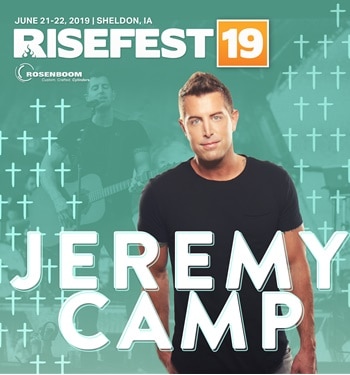 "Friday night is going to be awesome! Jeremy Camp and Skillet! We couldn't be more excited to have Jeremy back!" said President and Founder of RISE Ministries, Rob Roozeboom. "He's been an outstanding artist over the years at the festival and his heart for ministry lines up so much with ours. I can't believe Friday will have Matt Maher, Jeremy Camp and Skillet!  What a great way to start RiseFest 19!"
Songwriter and storyteller Jeremy Camp's latest album, THE ANSWER, is his 15th career album in 15 years. Since his debut album, 2002's STAY, Camp has established himself with numerous landmark accolades, including four RIAA-certified Gold albums, more than 4.5 million albums sold, a GRAMMY nomination, three American Music Awards nominations, multiple ASCAP awards, 41 radio No. 1's, a Gold digital single ("There Will Be A Day"), and a multi-Platinum DVD.