Meet The Ambassadors
Tuesday, March 8, 2016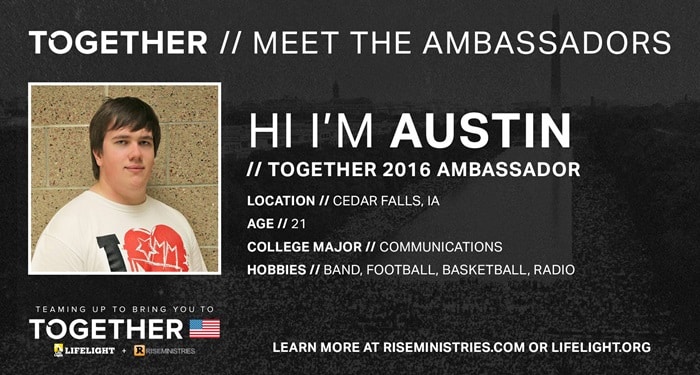 The next RISE Ambassador we'd like you to meet is Austin. Here is what he has to say about TOGETHER 2016!
"Words can not explain how excited I am to be going to Washington D.C. to see all of God's people come together as one to worship. I'm new to Rise on the Road and excited to experience it with RISE Ministries and others. I have always wanted to experience what it is like to go on a ROTR trip with RISE Ministries and Together 2016 was one I honestly could not miss. My first time ever hearing of Together 2016 was at LifeLight which also was my first time ever at LifeLight in 2014 and it was worth every second. Ever since then I have never lost interest. This trip is not only just to bring God's followers together but to bring new followers and to show this country this is more than just a religion but it is one big family. Would this be a family you want to be part of? Would you like to join the RISE Ministries family? Do this and I can promise you that you will not regret your decision! It is a once in a lifetime opportunity and it is worth every penny."
- RISE Ambassador Austin Brands
Ask him about TOGETHER 2016!