Matthew West Returns to RiseFest
Monday, December 16, 2019
RiseFest is excited to announce the newest addition to the 2020 festival lineup. Making his third appearance, four-time Grammy Nominated artist, Matthew West will play the festival on Saturday, June 20.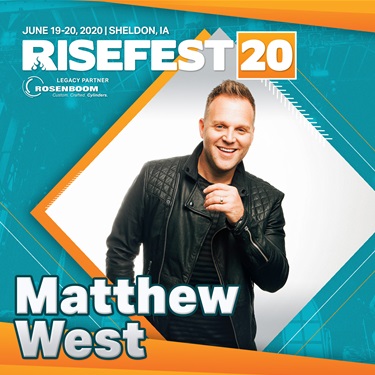 "It's been a while since you've heard this name at RiseFest - Matthew West will be joining us this summer!" said President and Founder of RISE Ministries, Rob Roozeboom. "We couldn't be more excited to have Matthew back and we can't wait for a great night of worship with him!"
A four-time GRAMMY® nominee, American Music Award winner, GMA Dove Award winner, K-LOVE Fan Award winner and Billboard's 2016 pick for Hot Christian Songwriter of the Year, everybody knows that MATTHEW WEST has gone all in in his music career, but with his eighth studio album set to release, he's ready for his fans to know that he wants to go all in in every area of his life.
Since 2009, the singer/songwriter has been collecting stories from people all over the world. By now, he has well over 40,000 of them. And for the past several albums, he has taken their stories of heartache and hope and turned them into songs. All In includes songs like these, dedicated to others' stories, but this album will give listeners a glimpse into West's personal stories as well.
The annual RiseFest Stocking Stuffer Special is on sale now. Buy 5 tickets at $35 each and get two, long-sleeve shirts. The special ends Christmas Eve. Prime Tickets, camping spaces, and kid tickets (children 10 and under) are all available as well. New this year, RiseFest hooded sweatshirts are for sale for $35. Tickets and merch can be purchased here on our website.