Jason Gray returns to RiseFest
Tuesday, February 18, 2020
RiseFest is excited to announce the next addition to the 2020 festival lineup. Minnesota native Jason Gray will make his second RiseFest appearance and play on Saturday, June 20.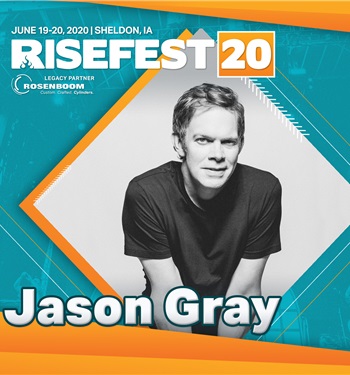 "We're excited to announce Jason Gray will be joining the RiseFest lineup! Jason was with us back in 2015 and just recently joined us this fall for our RiseFest kickoff dinner." said President and Founder of RISE Ministries, Rob Roozeboom. "Jason has a powerful story and is both entertaining and inspiring as he shares about his fight with stuttering. Saturday is shaping up to be great at RiseFest with the addition of Jason Gray!"
One of "Christian music's best kept secrets" according to ChristianityToday.com, Jason Gray has won two ASCAP Performance Awards for "More Like Falling in Love" (2011) and "Good to Be Alive" (2012). His first No. 1 single, "Nothing Is Wasted", reached the top spot on the Soft AC Chart in May 2013 and remained there for nine weeks. His release in 2012, was named Album of the Year by critics and garnered three Top 5 radio singles which included the "Nothing Is Wasted" single. Also in May 2013, he was honored at ASCAP's 35th Annual Christian Music Awards with the "Most Performed Song Award" for his song "Good to Be Alive" co-written with Brandon Heath and Jason Ingram. The song was a Top 5 single on Christian radio and was released on Gray's album A Way to See in the Dark.
In 2014 Gray released the album Love Will Have the Final Word, which speaks to the redeeming power of unfailing love, decisiveness, and closure. The lead single, "With Every Act of Love", helped mark the most successful launch in radio in Centricity Music history with 39 adds its debut week. It, reached Billboard's Top Ten AC Indicator chart and Top 20 on the National Audience Chart and was a No.1 radio hit. His subsequent studio album, Where the Light Gets In, released in 2016. His newest project is a three part series titled "Order Disorder Reorder." Volume 1: Order is a 5 song reflection on some of the kind of base-line wisdom that is foundational for creating order: the humility that recognizes we are works in progress (Becoming), the simple gratitude for the gift and giver of life (Maker Of Mornings), the wisdom of childlikeness (The Wonder), the peace of living surrendered (I'm Gonna Let it Go), and the hope that the author and finisher of our faith is always at work in the roller coaster ride of transformation (Order Disorder Reorder).