Meet The Ambassadors
Wednesday, March 30, 2016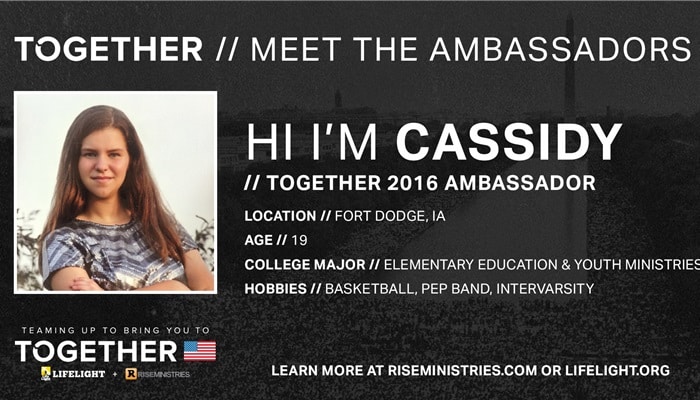 The next RISE Ambassador we'd like you to meet is Cassidy. Here is what she has to say about ROTR TOGETHER 2016! 
Hello, my name is Cassidy Polacek. I am originally from Boyden, Iowa, but I study in Fort Dodge, IA. My college major is Elementary Education with a minor in Youth Ministries. My hobbies include playing basketball, listening to Christian music, and being with friends.
I am excited to be a part of this team because following God is a passion, and being a leader of one of his teams in college has inspired me to go the extra mile in my faith. I am excited about Together 2016 because not only do you get to worship God for a week, but you get to experience what it is like to meet new people, try new things, and help us inspire more generations on what it is about. So, I encourage everyone out there to give Together 2016 a try. Step out of your comfort zone and into faith, and you could be a part of something so much bigger.
- RISE Ambassador Cassidy Polacek 
Ask her about TOGETHER!