Darryl Strawberry in Sioux Center
Friday, July 29, 2016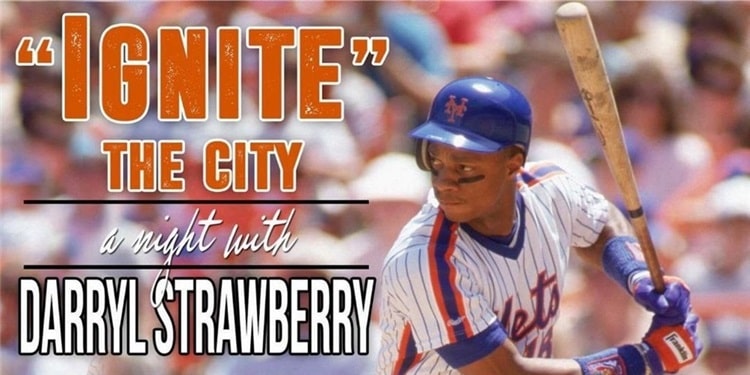 Get tickets here!
The four-time World Series champion with the New York Mets and New York Yankees (3) also appeared in eight consecutive MLB All-Star games.  Throughout the 1980s and early 1990s, he was one of the most feared sluggers in the game, known for his prodigious home runs and his intimidating presence in the batter's box.  However, the fame and fortune of his baseball success also provided the foundation and means for drug and alcohol addiction.
Now, as an ordained Christian minister, Strawberry inspires hope and changes lives by speaking about surviving cancer, raising awareness about autism, overcoming addiction, and his faith in God.   In his New York Times best-selling book, Straw: Finding My Way, he shares what it was like growing up in the Crenshaw District of Los Angeles, his rise to baseball superstardom as a Met, Dodger, and Yankee, his public and private struggles with addiction, his triumphant battle over cancer, his awakening, and his marriage to the love of his life, Tracy.
Darryl has found true redemption and restoration in Jesus Christ.  He shares his story as a powerful illustration of the true power of God, His redeeming love, and the physical, emotional, and spiritual healing that is available through Him.  Strawberry's mission is to lead people to Jesus Christ, and to restore lives and relationships through the power of God and the process of change.
We are excited for Darryl to share his story in Sioux Center this August.  This is an event you will not want to miss!
If ticket price is an issue please email Mike at michaeldejong22@gmail.com and we will make a way for you!
Also this not a autograph session, Darryl is coming to share his story. Please respect him in that way.  Thanks!
Business Sponsors and Supporters:
HOME - House of Missions & Equipping
Pizza Ranch
AdvoCare - DeJong Nutrition
American State Bank
Royal Tan
Search One
Premier Communications
Hampton Inn of Orange City
Thanks to all who helped bring Darryl Strawberry to Sioux Center!