Meet The Ambassadors: Jasmine
Thursday, January 21, 2016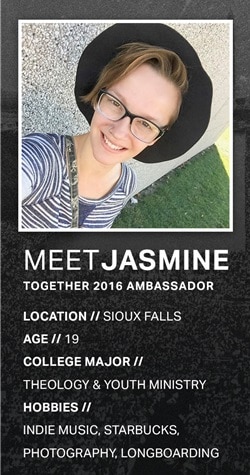 Rise on the Road 2016 is shaping up to be the biggest ROTR summer ever. Not only are we going back to the DR for our sixth time and partnering with our friends at LifeLight to bring people to TOGETER 2016 in Washington D.C. in July, we also launched the RISE Ambassador Program. A RISE Ambassador is a person who is passionate about service and wants to see their generation on fire for Jesus. 
One Ambassador we'd like you to meet is Jasmine. 
Here is what she has to say about being a RISE Ambassador: 
"I am so excited to see what Jesus will be doing at Together 2016! I have prayed, along with many others, for a reset in my life and I have seen my prayers answer. Together, we will gather and pray for a reset for our lives, generation, and nation. We live in a world where suicide numbers are on the rise and families are falling apart; We need a reset. We need Jesus. Jesus will change everything. At this event, I have complete confidence that those struggling will find the hope that only Jesus can provide. I believe that this event will be the start of something beautiful in our world. By going with RISE Ministries, we will also have the opportunity to be the hands and feet of Jesus through service projects! We will also be able to take in some of the historical sights in the area. Will you be a part of making history? Will you stand for the one true King? It is going ot be a life changing time and you do not want to miss out on this once in a lifetime opportunity!" 
- RISE Ambassador Jasmine VanderBush