RiseFest 2018 Dates
Friday, July 28, 2017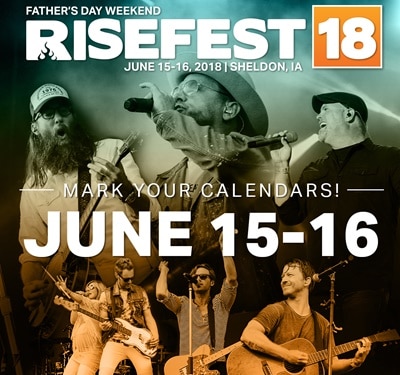 After weeks of deliberation and careful consideration, RISE Ministries has set the dates for RiseFest, 2018. The dates for next year's festival will remain centered around Father's Day weekend and are set for Friday, June 15 and Saturday, June 16.
"After many conversations, prayers, and thoughts, we have decided to keep RiseFest on Father's Day weekend." says Founder and President of RISE Ministries, Rob Roozeboom. "We tried to find a date that would limit the chance of severe weather given our last few years. But the more we continued the conversation, the more we realized it was going to be very difficult with so many other great events throughout our region to find another a date that would work. We're excited to keep the Father's Day tradition going. It excites us to kick off the summer with the festival. We'll continue to pray for good weather for Father's Day weekend 2018, June 15 and 16." 
Watch RiseFest 2017's recap videos here.