Jeremy Camp Returns to RiseFest
Tuesday, November 21, 2017
RiseFest is pleased to announce the next artist on the 2018 lineup, GRAMMY-nominated artist, Jeremy Camp. This is Camp's third appearance at RiseFest as he headlined the 2009, and 2014 festivals.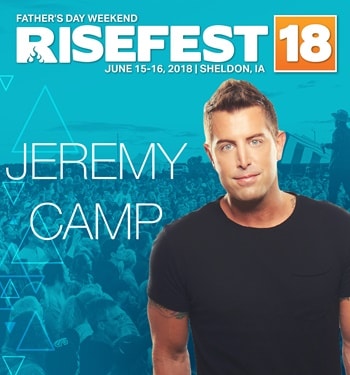 "As we continue to build the lineup for RiseFest 2018, we are excited to have Jeremy Camp back for the third time. " said President and Founder of RISE Ministries, Rob Roozeboom. "We think he's a great addition to Jordan Feliz and We Are Messengers. Jeremy is always a great artist to have on your lineup. He has a powerful story and a heart for worship that connects with audiences everywhere."
On October 6, songwriter and storyteller Jeremy Camp released THE ANSWER, his 15th career album in 15 years. Since his debut album, 2002's STAY, Camp has established himself with numerous landmark accolades, including four RIAA-certified Gold albums, more than 4.5 million albums sold, a GRAMMY nomination, three American Music Awards nominations, multiple ASCAP awards, 41 radio No. 1's, a Gold digital single ("There Will Be A Day"), and a multi-Platinum DVD.
Festival goers can save on RiseFest tickets during the Super Savings Special. From now until November 30, full event tickets are on sale for only $25. These tickets are good for both Friday and Saturday of RiseFest. Kids 10 and under are free. Camping sites are available for purchase as well. Tickets can be purchased here. 
RiseFest features well known and up and coming Christian artists. In addition to  musical acts, attendees visit seminars and listen to speakers. Children can play games and make crafts in the Kids Zone. Junior and Senior high school aged students can participate in their respective, specially catered youth areas. Those traveling out of town can buy camping spaces for trailers or tents to stay the weekend. RISE Ministries, along with its sponsors, partners, and volunteers seek to make the atmosphere of the event fun and meaningful for all ages.